Portland JACL Book Club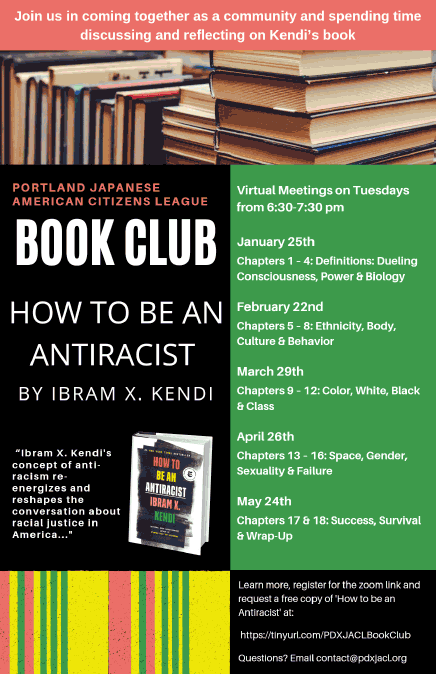 Join us in coming together as a community and spending time discussing and reflecting on 'How to be an Antiracist' by Ibram X. Kendi. Virtual Meetings on Tuesdays from 6:30-7:30 pm held the following dates:
January 25th Chapters 1 – 4: Definitions: DuelingConsciousness, Power & Biology
February 22nd Chapters 5 – 8: Ethnicity, Body,Culture & Behavior
March 29th Chapters 9 – 12: Color, White, Black& Class
April 26th Chapters 13 – 16: Space, Gender,Sexuality & Failure
May 24th Chapters 17 & 18: Success, Survival& Wrap-Up
Learn more, register for the zoom link and request a free copy of the book at:
https://tinyurl.com/PDXJACLBookClub
Questions? Email contact@pdxjacl.org
Follow us on Facebook and Instagram to learn about new events from our chapter.