No No Girl Screening & Panel
Thank you for joining Portland JACL for this special film screening. Today we honor the individuals and families impacted by the signing of Executive Order 9066 on February 19, 1942, which led to the forced removal and incarceration of nearly 120,000 people of Japanese ancestry during WWII.
Immediately after the film, we will have a conversation with the filmmakers.
No No Girl is a generational Japanese American story that intersects ideas of identity, family, duty and the traumas of war and forced removal. Almost a century removed from WWII and the incarceration of her ancestors, one young daughter will take it upon herself to shine a light on their past and uncover the mysteries that have been haunting their family.
The past is never dead. It is not even past.
-William Faulkner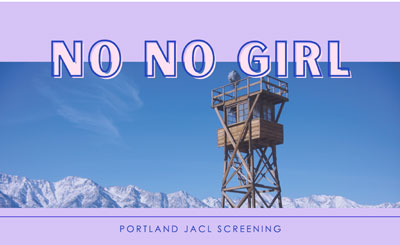 Learn more about our panel
Larry Toda, our moderator, is the Senior Corporate Communications Manager at Mentor Graphics Corporation. With 30+ years of communications experience, Larry has served a wide variety of clients. Also, he was previously on the Japanese American Citizens League's board of directors. As an actor, Larry's many credits include Theatre Diaspora's Breaking the Silence. Larry holds a B.A. in Journalism and Communications and an M.B.A.
Paul Daisuke Goodman is a filmmaker and two time cancer survivor. He began his career as a camera operator on the high seas for Discovery's Whale Wars until his first cancer diagnosis at age 25. For the next six years he would undergo treatments for his Leukemia that would achieve an initial remission within the first two years. During that time, Goodman began writing and editing from his hospital room and would shoot films in his months as an outpatient. Eventually, and with the help of his doctors, he was able to make his first feature film, Evergreen. They would shoot on the road for 28 days and on the 30th, he was back in the hospital for more chemotherapy.
In late 2020, at the height of the pandemic, Goodman's cancer would relapse. This time spreading to his spinal cord and brain. The initial outlook was bleak but after the first rounds of chemotherapy things would take a turn for the fortunate and set him on a road towards bone marrow transplant and recovery. During this time, he would write his second feature film, No No Girl, and through chemo, radiation and the transplant he would find another remission and shoot the film six months after being discharged from the hospital. Today, Paul lives in Los Angeles with his fiance and manages his own production company, Eight East Productions, named for the wing of the hospital where he made his first films.
Chris Tashima is an actor and director based in Los Angeles who has been working in theatre and film for nearly 40 years. He won an Academy Award® in 1998 for the dramatic short film, Visas and Virtue, inspired by the heroic actions of Holocaust rescuer Chiune Sugihara. Chris co-wrote and directed the film, and starred as the Japanese diplomat who issued transit visas allowing 6,000 Jews to escape Nazi Europe at the onset of World War II. Chris has portrayed a number of Japanese American roles in independent films including Under the Blood Red Sun, adapted from the Graham Salisbury young adult novel, and Go For Broke – An Origin Story, from producer/screenwriter Stacey Hayashi. He is proud to be a part of the powerful ensemble in Paul Daisuke Goodman's generational portrait, No No Girl, currently hitting the festival circuit. Chris can next be seen as a Samurai-SWAT Captain in Brian M. Tang's action/fantasy, Kodama, world premiering in the Midnight Shorts Competition at SXSW in March.
Mika Dyo is a Japanese American theatre artist and storyteller. She is currently studying Theatre Arts at California State University Long Beach with an emphasis in acting and costume design. Training under the likes of Anna Steers, Ezra LeBank, Lelani Chan, and Josh Nathan. Some of her acting credits include: Sue Hasegawa in No No Girl (Eight East Productions), Ensemble in American Distortion (California Repertory Theatre, CSULB Theatre Threshold), #46 in The Wolves (California Repertory Theatre), and Annie in Magnets (CSULB Theatre Threshold).
Laurie Miho Goodman got her start in New York working on Broadway with the likes of Hamilton's Daveed Digs and his collaborative partner Rafael Casal. In 2017, Laurie was accepted into the prestigious BARS Workshop at the Public Theater where she would write and perform original works in front of a host of Broadway's biggest names. She would leave New York during the pandemic to pursue a producing role with her brother at Eight East Productions and has been integral in every feature project since. Currently, Laurie is also a Staff Writer for iHeartRadio's podcast, Noble Blood, hosted by Dana Schwartz.
Donation Request
If you are financially able, please consider making a donation to support this program.
You can make a tax-deductible donation online through Paypal.
We can accept donations through Venmo @pdxjacl.
You can also make a contribution directly to one of our volunteers at the end of the event.
Thank you!