Community Scholarship Recipients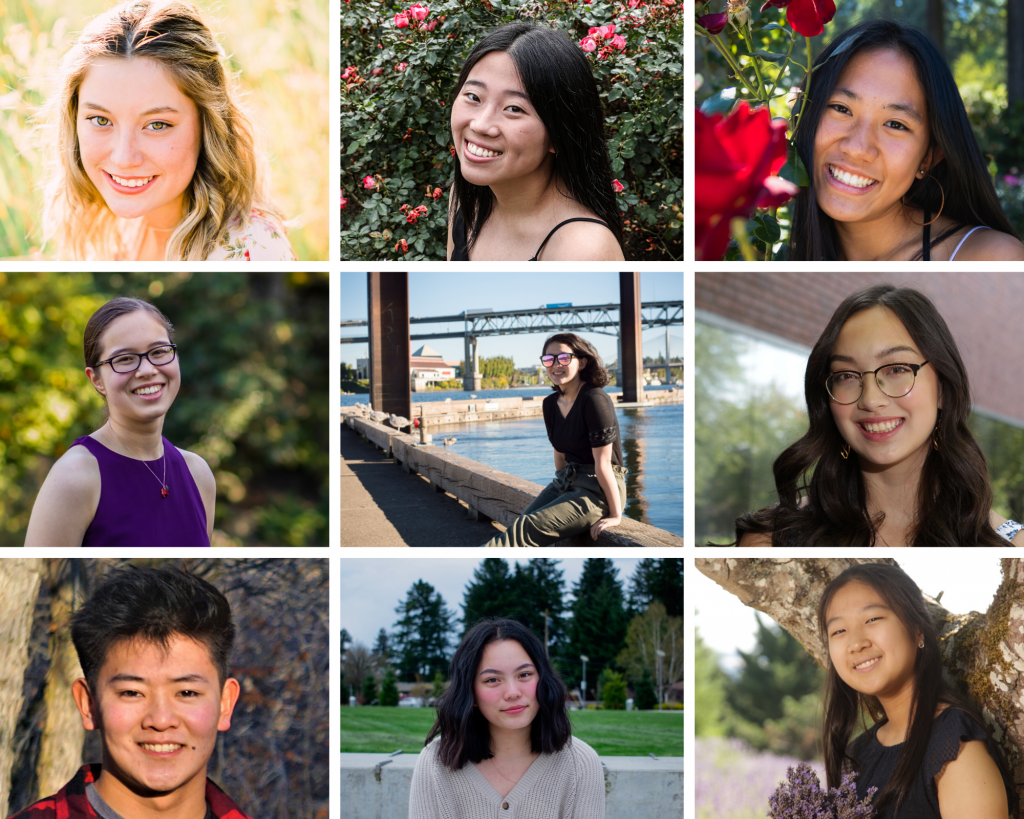 By Heidi Kimiko Tolentino
The COVID 19 pandemic has kept our community from so many of our yearly events and this year?s Japanese Community Graduation Banquet was amongst them. Despite the banquet being cancelled, we were still able to award the community scholarships to an exceptional group of seniors. Though we could not celebrate with them in person, we want to honor them for their hard-work, dedication and outstanding accomplishments.
Oregon Nisei Veterans: Iwasaki/Okamoto Scholarship
The Oregon Nisei Veterans began in 1948 with the purpose of raising money to build a monument to honor the Nisei soldiers killed in action during WW II. The Oregon Nisei Veterans awards the Iwasaki/Okamoto Scholarship each year.
Art Iwasaki was a member of the 442nd Regimental Combat team during WWII and a founding member of Oregon Nisei Vets. Art was a recipient of the Congressional Gold Medal and this scholarship is given in memory of his loving wife, Teri. Second Lieutenant Roger Okamoto was killed in Vietnam in 1966 at the age of 23. Lieutenant Okamoto graduated from Benson High School and earned an engineering degree from the University of Washington.
The winner of the Iwasaki/Okamoto Scholarship was Alexis Klum of Tigard High School. Alexis was a 4-year softball player, Junior Class President, and a member of the National Honor Society. In the fall, she will be attending the Oregon Institute of Technology. Congratulations Alexis!
Japanese Ancestral Society (JAS): Tsuya and Kumaichi Minamoto Scholarship, Hide Naito Scholarship, Mary K. Naito Scholarship
The Japanese Ancestral Society is a non-profit organization dedicated to serving the Nikkei community and to promoting education and fellowship among the members of the Nikkei community. JAS awards three scholarships each year.
Tsuya and Kumaichi Minamoto emigrated from Japan in the early 1900?s and endured being incarcerated during WWII. Their daughter, Mary, created this scholarship in their honor.
The winner of the Minamoto Scholarship was Nicholas Shibata of Sunset High School. Nicholas was a member of the Japanese National Honor Society, participated in the Epworth Mission Trip to Arizona, and was involved with Boy Scouts all four years of high school. Nicholas will be attending Portland Community College next year. Congratulations, Nicholas!
Hide Naito was a Portland entrepreneur who started his first of several businesses in 1921 which diversified during his lifetime into retail operations, importing and real-estate development.
This year?s winner of the Hide Naito scholarship was Irei Tei of Sunset High School. Irei will also graduate from the Portland Japanese School where she attends every Saturday. She was President of Sunset?s Asian American Alliance Club, a Varsity Raquetball Team member and twice finished the New York Marathon during high school. Irei will be attending the University of Oregon next year. Congratulations, Irei!
The Mary K. Naito Scholarship is sponsored by Mr. and Mrs. Verne Naito. Mary K. Naito was a homemaker, community volunteer, businesswoman and high school Valedictorian.
The winner of the Mary K. Naito Scholarship was Asahi Irene Nagasaka of Westview High School. Asahi will also graduate from the Portland Japanese School, which she attends every Saturday. Asahi was a four-year varsity athlete in both Cross Country and Track and Field, on the National Honor Society and did service work at her school as a member of the Link Crew. Asahi will be attending Santa Clara University next year. Congratulations, Asahi!
Portland Shokookai: Shokookai of Portland Scholarship
Portland Shokookai was founded in 1966 by a small group of Japanese companies. They facilitate business operations for Japanese companies in Oregon and SW Washington and run the Japanese Language School.
This year?s Shokookai of Portland Scholarship winner was Akane Shirota of Liberty High School. Akane was a four-year member of Liberty?s Robotics Team that were finalists at the World competition, maintained a 4.0 G.P.A., and volunteered her time at OBT?s yearly Obon Festival. Akane will be attending Oregon State University next year. Congratulations Akane!
The Veleda Club and Portland Nikkei Fujinkai: Veleda Club/Nikkei Fujinkai Scholarship
The Veleda Club is Portland?s oldest Nikkei women?s service organization that is active in the community today. Portland Nikkei Fujinkai is a Japanese Ancestral Women?s Association that was established in 1935. They support community activities and cultural education.
This year, the Veleda Club and Nikkei Fujinkai gave a joint scholarship and the winner was Emily Jackson of Grant High School. Emily was a member of the Japanese Magnet Program (JMP) of Portland Public Schools, a four-year member of Grant?s Tennis team, and a member of the National Honor Society. Emily will be attending Portland State University next year. Congratulations, Emily!
Gresham-Troutdale JACL: Gresham-Troutdale JACL Scholarship
The Gresham- Troutdale JACL is part of the oldest national civil rights organization in America. It serves to protect the rights of not only Asians, but all minorities, and nurtures the cultural heritage of Japanese Americans.
The winner of the Gresham-Troutdale JACL Scholarship was Kayla Asakawa of Mountainside High School. Kayla was a member of the Japanese National Honor Society, the Model United Nations and won an IB Student of the Year Award. Kayla will be attending Oregon State University next year. Congratulations, Kayla!
Portland JACL: Kiyoko Yumibe Scholarship, Matt Masuoka/State Farm Scholarship, Yoshiko Kennedy Scholarship
Portland JACL was established in 1928 with an ongoing mission to fight social injustice and to preserve the cultural heritage and values of Japanese Americans. Portland JACL awarded three scholarships this year.
Kiyoko Yumibe was a hard-working Nisei who was incarcerated during WWII. She established a fund, through Portland JACL, to help support youth seeking higher education.
The winner of the Yumibe Scholarship was Andy Okamoto of Cottonwood High School in Cottonwood, Utah. Andy was a four-year Varsity Baseball player who won the state championship twice, a youth representative for both the Mount Olympus and Portland JACL chapters and an academic tutor for immigrant students and academically struggling students. Andy has not committed to a college yet, but will be playing baseball wherever he attends. Congratulations, Andy!
Matthew Masuoka was a Nisei dentist who was a past President of Portland JACL and a Pacific NW District Governor. This award is given in his honor by his daughter, Dr. Connie Masuoka. State Farm also donates to this scholarship through the generosity of Mariko Locke, a local State Farm Agent.
The winner of the Matt Masuoka/State Farm Scholarship was Mariko Tanada of Central Catholic High School. Mariko was a four-year member of the Japan Club, played club volleyball all four years, and volunteered as a peer mentor for four years. Mariko will be attending Beloit College next year. Congratulations, Mariko!
Yoshiko Kennedy used her talents as a seamstress and master of Ikebana to ensure her children would receive an education. The Yoshiko Kennedy Scholarship was created in her memory.
The winner of the Yoshiko Kennedy Scholarship was Ayu Kashiwa of Mountainside High School. Ayu will also graduate from the Portland Japanese School this year where she attends every Saturday. She was a member of three bands in her high school, in the National Honor Society, and won Mountainside Subject awards in both Science and World Language. Ayu will attend Sophia University next year. Congratulations, Ayu!
The 2020 Japanese Community Scholarship Recipients are a talented, accomplished and academically outstanding group of students. We are impressed by what they have already achieved and see great things in their future. Class of 2020, our community is so proud of you and wish you well in your future endeavors.
Henjyoji Shingon Buddhist Temple Art Award
By Francis Sumida Palk
This award was established by the family of the late Rev. Kazuko Wako Henjyoji, in recognition of her lifetime of service strengthening cultural ties between the United States and Japan. She was devoted to education, teaching Japanese and Americans alike both the art of Japanese tea ceremony and the art of Ikebana, flower arranging. This year four outstanding young people were selected to receive this recognition.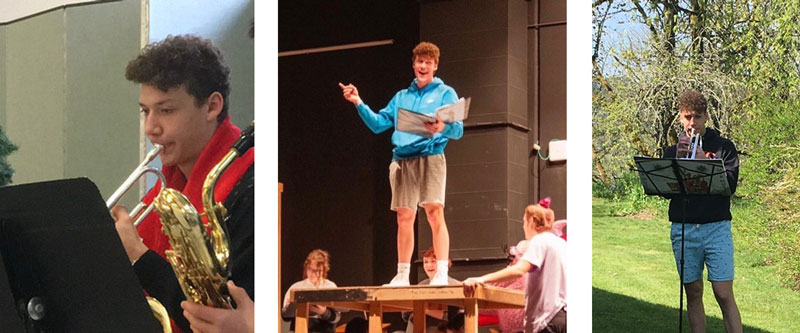 Alexander Masog
Scappoose High School
28 miles from Portland to the West toward
beach
Expected Major: Psychology
Honor Roll
Alexander is an outstanding varsity athlete, hockey, swim team, football varsity and a first chair trumpet player and lead singer in Shrek playing the role of Donkey.
Alexander has been recognized for his musical abilities.
He has also attained a first degree black belt in Taekwondo and Japanese sword.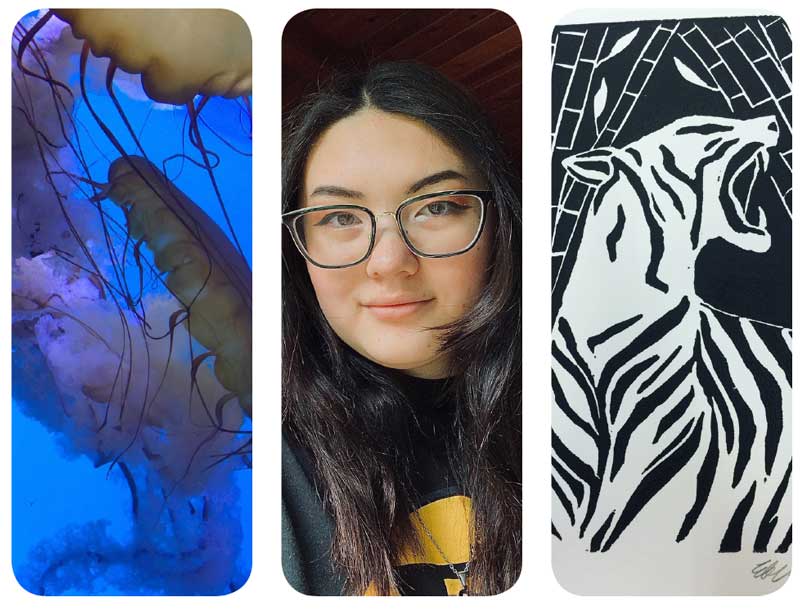 Emiko Wingren
Sandy High School
GPA 4.0
Major: Arts and Fine Arts
Minor: Education
Awards: Emiko has received Scholastic Art and Writing Award
2018 NW Oregon Conference Art Competition.
She has been actively involved in the Oregon Buddhist Temple.
She draws and is interested in photography. She plans to be an art teacher.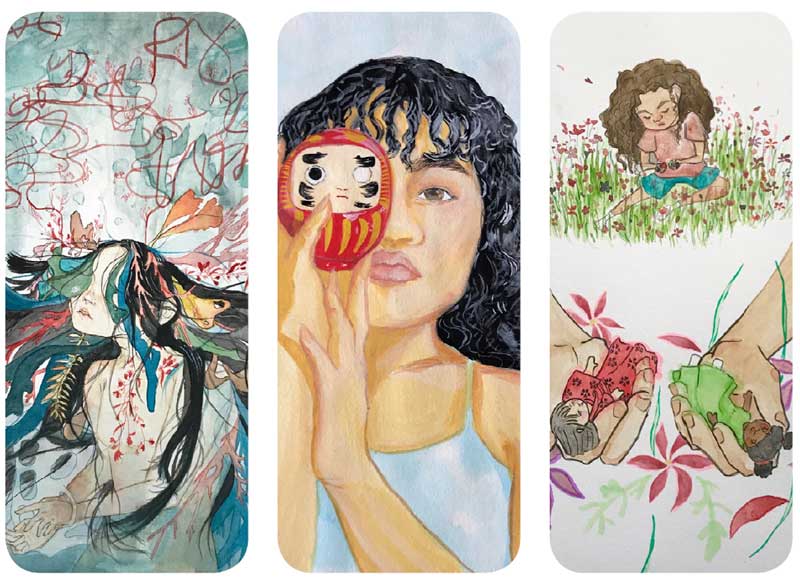 Mito Dennise Smith
Grant High School
Major: Art Design at Rhode Island Art of
Design
Her Grant Counselor, Amy Gervais, wrote that Mito shows ? …incredible artistic vision, ability to communicate, and strong work ethic, make her deserving of your scholarship and have earned her my highest recommendation.?
As a Member of Epworth Methodist Church youth group she helped lovingly fold 10,000 Tsuru for Solidarity for each NW person incarcerated in the World War II camps. She is co-president of Grant High Asian Pacific Islander Alliance.
Awards: 2019 Scholastic Art and Writing Awards, at Pacific NW College of Arts, both in Gold and Silver Categories.
Mito wrote ?From a young age I have been fascinated by the traditional arts surrounding my Japanese background. In my free time I have ventured in Shi yuji and Sumi-e. I have admired the traditional colors, patterns, and tales seen on Kimono, manga, Mokuhanga.
And drawn inspiration from all ranges of art forms from my multicultural background.?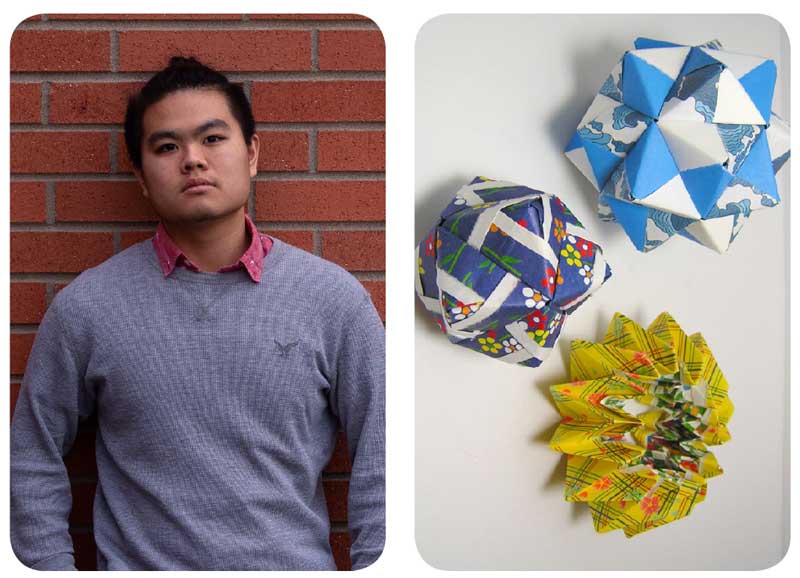 Nicholas Shibata
Sunset High School
Major: Biology
Nicholas is a member of the Epworth United
Methodist Church.
Nicholas has tutored in chemistry, history, anatomy, Japanese language arts. He has volunteered in community services scouting activities such as trail and shed building and demolition.
He folds beautiful origami pieces. ?I relate to the modern and contemporary styles of origami. Examples are of modular origami, created from multiple identical
pieces to create a 3 dimensional structure. Been practicing for 17 years, altering the patterns to create new forms. Final example of work is called ?firework? which combines 3 colored papers, flipped inside out to show
distinguishing pattern of colors, such as a firework changes colors. It brings me to the cultural significance this art form has to me, family and friends of whom I have gifted with the origami.?
He is a member of Asian American Alliance, an after school interest group, studying Asian culture through food, language and cultural understanding. Nicholas is a member of the Japanese National Honor Society.