By Lauren Sadataki
In March, I had the opportunity to join 36 other participants and three chaperones from across the country to participate in the first in-person KAKEHASHI Project trip in three years. On this trip, I had the pleasure of traveling to Gifu, and I also had the opportunity to meet high-ranking representatives of the Japanese government, including Deputy Chief Cabinet Secretary and Special Adviser to Prime Minister Kihara Seiji and Parliamentary Vice Minister for Foreign Affairs Yoshikawa Yuumi. One thing that stood out to me was that everyone greeted us by saying, "Welcome back to Japan" rather than "Welcome to Japan," acknowledging our family's history.
This trip was not my first time traveling to Japan, but it was the first time I was able to meet and travel with individuals who identify as Japanese American in a similar age range. Throughout my life, my family has been involved in the JACL Cleveland chapter. Every summer, we have a community picnic. It was through this involvement, that I was able to learn about the Kakehashi program. Visiting Japan with the intention of making a cultural pilgrimage was very different than visiting Japan as a tourist.
I was adopted from China, but I identify as Japanese American. One of the most memorable experiences on this trip, was that I was able to meet another participant, besides my twin, who was also adopted from China and was raised in a Japanese American household. We immediately connected during the trip, and soon realized that our stories were very similar. Prior to the trip, I felt confused about my identity, but the Kakehashi program enabled me to embrace that I identify as a fourth-generation Japanese American woman. It was very refreshing to hear that other participants could not speak Japanese, and no one judged one another for not being able to because we all understood why.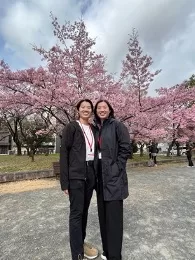 My favorite part of the trip was in Gifu Prefecture. Gifu is known for its beautiful waterfalls and abundance of nature, similar to Portland where I currently reside. In Gifu, we had the pleasure of traveling to the timeless village of Shiragawa-Go, a historic mountainside settlement registered as a UNESCO World Cultural Heritage Site. It was fascinating to see how everything in the village was created with a purpose. For example, farmhouses were built to face the sun so that snow would melt from the roof to provide water for crops. We also visited the Gifu Sekigahara Battlefield Memorial Museum, where Japan was reunified under the Tokugawa Shogunate in 1600. Despite not hearing about this battle prior, it is considered as impactful to a nation's history as Waterloo or Gettysburg.
Another memorable moment was the opportunity to meet with the Gifu World Youth Organization. Through this meeting, we were able to connect with community members aged 10 to 80+. I was amazed by the sheer number of community members who attended. During this meeting, we shared our families' stories of immigration. Though I had assumed that Japan did not particularly care about those who had left the nation, it was clear some still do. Despite a few difficulties communicating, many community members asked insightful questions about our American experiences, and it was reassuring to hear that many community members wanted us to return to Japan and stay with them in the future.
Prior to the Kakehashi program, I was hesitant that I would be able to connect with my fellow participants. But, after the fact, I am blown away by the level of connection I was able to feel and am appreciative of the various conversations we had about our identities. I can now confidently say that everyone who was in Group A is my friend, and we continue to stay in touch via group chat and by planning meetups. By participating in the program, I feel an even stronger connection to my Japanese American identity and am more motivated to get involved with the Japanese American community in Portland. I am extremely thankful to JACL for organizing this program, and especially to our JICE coordinators, Hiroko Taniguchi and Haruka Tsuda, as well as local travel agent Ryohei Shimizu for going above and beyond. I highly encourage anyone who identifies as a Japanese American to participate in this program if they are able.