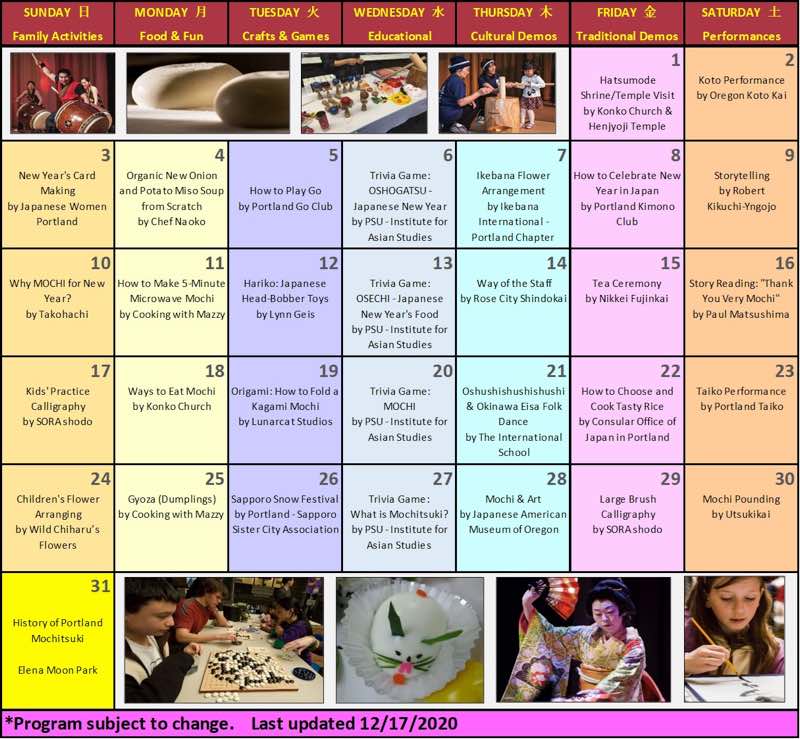 Everyday for the month of January, the activity scheduled for the day will be available on the Mochitsuki website at mochipdx.org. You can access the video anytime after it is posted. Our only live program will be the music and panel discussion with Elena Moon Park on January 31st at 1 p.m.
January
1 Hatsumode Shrine/Temple Vist by Konko Church and Henjyogi Temple
2 Koto Performance by Oregon Koto Kai
3 New Year's Card Making by Japanese Women Portland
4 Organic New Onion and Potato Miso Soup from Scratch by Chef Nakao
5 How to Play Go by Portland Go Club
6 Trivia Game: Oshogatsu-Japanese New Year by PSU Institute for Asian Studies
7 Ikebana Flower Arrangement by Ikebana International-Portland Chapter
8 How to Celebrate New Year in Japan by Portland Kimono club
9 Storytelling by Robert Kikuchi-Yngojo
10 Why MOCHI for the New Year? by Takohachi
11 How to Make a 5-Minute Microwave Mochi by Cooking with Mazzy
12 Hariko: Japanese Head Bobber Toys by Lynn Geis
13 Trivia Game: OSECHI-Japanese New Year's Food by PSU-Institute for Asian Studies
14 Way of the Staff by Rose City Shindokai
15 Tea Ceremony by Nikkei Fujinkai
16 Story Reading: "Thank You Very Mochi" by Paul Matsushima
17 Kids Practice Calligraphy by SORA shodo
18 Ways to Eat Mochi by Konko Church
19 Origami: How to Fold a Kagami Mochi
20 Trivia Game: MOCHI by PSU-Institute of Asian Studies
21 Oshushishushishushi and Okinawa Elsa Fold Dance by International School
22 How to Choose and Cook Tasty Rice by Consular Office of Japan in Portland
23 Taiko Performance by Portland Taiko
24 Children's Flower Arranging by Wild Children's Flowers
25 Gyoza (dumplings) by Cooking with Mazzy
26 Sapporo Snow Festival by Portland Sapporo Sister City Association
27 Trivia Game: What is Mochitsuki? by PSU-Institute for Asian Studies
28 Mochi and Art by Japanese American Museum of Oregon
29 Large Brush Calligraphy by SORA shodo
30 Mochi Pounding by Utsukikai
31 History of Portland Mochitsuki
Live musical performance and panel discussion with Elena Moon Park at 1 p.m.